Here's a little allergy-free recipe to help you celebrate Cinco de Mayo.   I think this will follow tacos nicely in our house.
Mexican Shortbread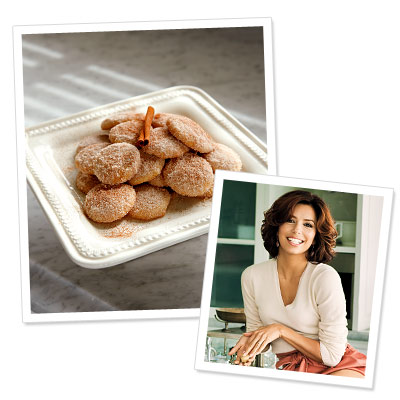 2 Cinnamon Sticks
2 1/4 cups flour
2 tsp baking powder
1/8 tsp salt
2/3 cups butter-flavored shortening (Crisco's variety is amazingly dairy-free)
1/2 tsp vanilla extract
1/2 cup, plus 2 Tbsp sugar
2 Tbsp ground cinnamon
1.  Preheat oven to 325 degrees F.
In a saucepan, bring cinnamon sticks and 1 1/2 cups water to a boil.  Let cool.  Discard cinnamon sticks.  Refrigerate liquid until chilled.
In medium bowl, combine flour, baking powder and salt.  Set aside.
In large mixing bowl, beat shortening, vanilla, 1/2 cup sugar and 1/4 cup cinnamon "tea" until light and fluffy.  Stir in flour mixture.
Roll dough into 1″ balls.  Place 2 inches apart on baking sheet.  Bake 15 minutes or until slightly browned around edges.
In bowl, combine 2 Tbsp sugar and ground cinnamon.  Dip cookies while still warm in cinnamon-sugar mixture.
Makes 3 dozen.
*As printed in InStyle Magazine, May 2009*