Allergic to eggs at Easter… It only SOUNDS like a conflict of interests.
Never fear! There's no reason you need to forgo the annual tradition of dyeing eggs. And, you might just pick up a new family favorite while you're at it!
First of all, after checking with my allergist, egg shells were deemed safe for my son to handle (NOT EAT) while he had an active egg allergy. The yolk and white of the eggs contain the protein that have the potential to cause an allergic reaction. Egg shells are almost entirely made up of calcium carbonate, with none of the allergy-inducing protein.
Double check with YOUR allergist.
Don't forget to read the ingredients on Easter egg dye kits.
And, get coloring!
If you just can't stomach real eggs regardless of whether their shells are safe, here's a round up of some other egg-cellent ideas (I'm sorry, there HAD to be one egg-adjective!) to help you celebrate:
How great and festive is this idea from SheKnows?! Grab bracelet length glow sticks and pop them into plastic eggs for a night time or foul weather egg hunt. Best part: plastic eggs don't cause hives!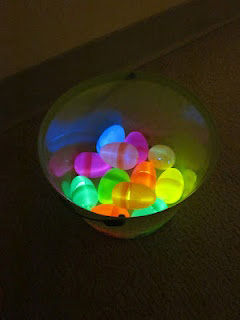 Love to try a Creme Egg but without the allergens? Cadbury's version contains dairy, soy and eggs. Instead, try making them via this recipe from Not Without Salt via Food 52. FYI, Lyle's Golden Syrup is cane sugar syrup.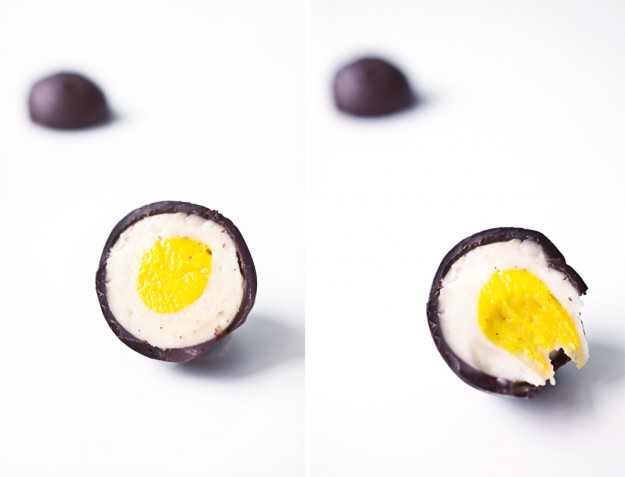 Although it's too late to enter the Washington Post's annual contest, why not create a Peeps diorama?! Peeps are very allergy friendly and a lot of fun to work with. Check out their past submissions to inspire you… Peep Anything?! I'm dying…
I'm hoping the Easter Bunny drops off a few of these at our house this year. How cute and easy are these crafts! Thank you for the great idea, Shaken Together!
There's a variety of jello Easter eggs out there in the universe, but Kraft seems to make the process the simplest using their Jell-O Jigglers Mold. Check out some of the rainbow hued ones a variety of bloggers have posted. They'd be a spectacular end to an Easter dinner.
I couldn't risk you not seeing these! Here they are from Thrive. :
Happy Eggless Easter, everyone!