The holidays are here!   If you're still struggling with how to make your holiday meal safe for all of your guests, check out these helpful tools and tips:
If you like the idea of deep-frying a turkey but don't want to mess with Peanut oil, this oil-less, propane Turkey fryer might be worth a try:
Buy Char-Broil Big Easy Fryer at Amazon
Fry turkeys the safe and healthy way with the Char-Broil The Big Easy Propane Oil-Less Fryer. Since this fryer uses a 16,000 BTU burner, there is no oil to buy, pre-heat or dispose of, making your cooking preparation effortless. Cool-touch handles help protect your hands during operation, and a pull-out grease tray makes cleanup a snap. Cooks up to 16 lb. of turkey, 8 lb. roast, ribs and more.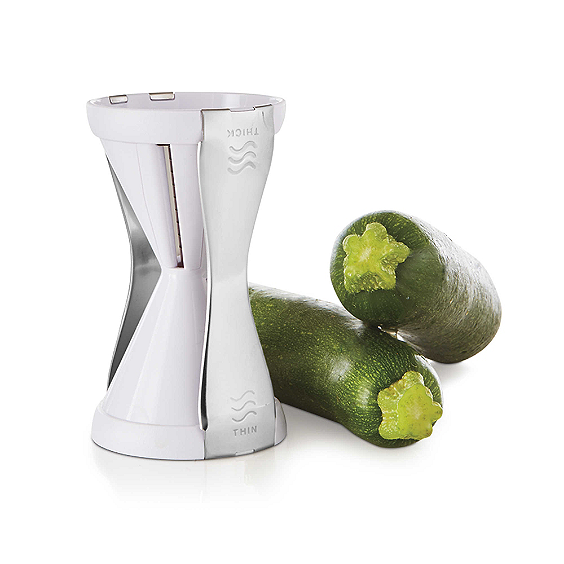 Have a vegan coming to dinner?  Someone going gluten-free?  The Vegetti takes ordinary vegetables and turns them into good-for-you spiral spaghetti.
Buy Mini Chalkboards at Amazon
These would be a perfect way to alert guests of appetizers and dishes that are gluten-free, nut-free, dairy-free, etc.
Kraft paper is so great – there are so many clever uses! My favorite – no surprise – is to use the paper as a runner or tablecloth and label all the dishes right on the paper tablecloth!  I also love the idea of displaying the menu/main recipes as decoration (and, for those with food allergies, important information).  And, of course, the most fun way to use kraft paper?  Place crayons in small tin buckets and let the guests doodle away!
Buy Kraft Paper Rolls at Amazon – these are heavy, definitely have it delivered!
There's still time to grab one or all of these items! You and your guests will use them again and again!
(Thank you in advance! A portion of the proceeds of the affiliate links go toward AllergyStrong.org – an organization aimed at helping at risk families with food allergies.)